Reflections about Allen Newell
    Eric Horvitz, June 2016
<![if !vml]>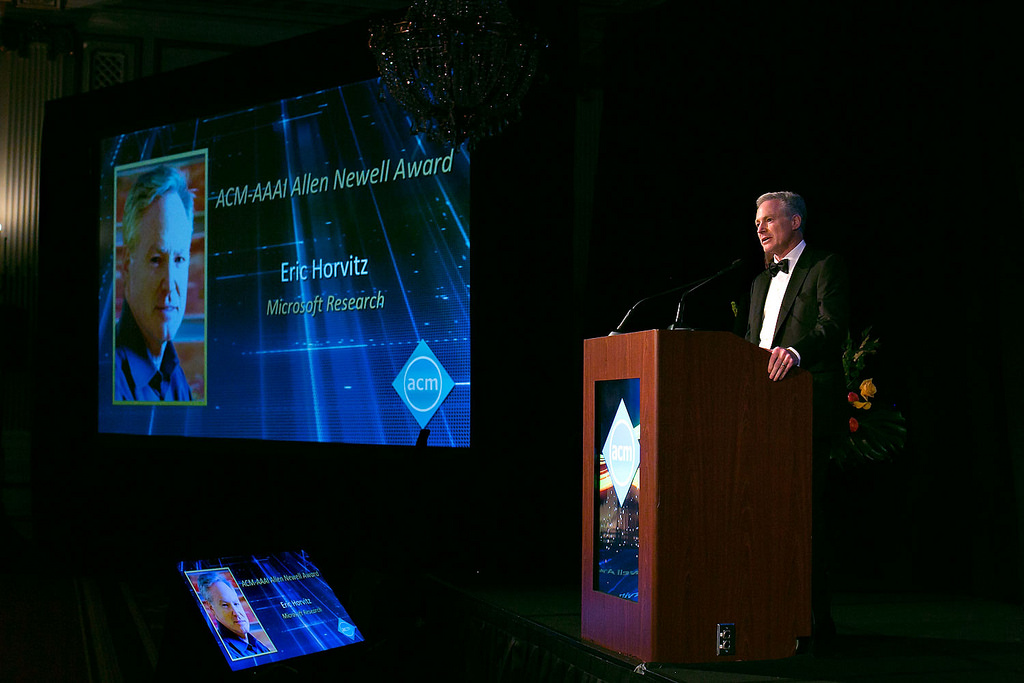 <![endif]>
Comments at ACM Awards Banquet
It's a great honor to receive an award established in the name of Allen Newell. A short while after getting a surprising notification about the honor, I received a moving note from one of Allen Newell's students.  In it, he said that he viewed my contributions over the years as "reflecting well the example that Allen set during his career and life."  And he added: "And that's saying a lot coming from me."
This honor has been extremely meaningful to me as I've deeply resonated with Allen Newell's ideas and approach to research.
Allen Newell comfortably stepped across the lines of existing disciplines to pursue answers to his questions. He found that hard challenges of AI don't respect traditional disciplinary borders.
He was keenly interested in cognitive mechanisms and larger architectures for problem solving and learning.  He drew insights from human cognition, and he sought to understand both human and machine intelligence.
And he recognized the importance of establishing a cycle of theory and practice for developing insights about AI— understanding that building and observing how computing machinery operates on realistic problems are critical on the path to deeper models and theories.
All of these aspects of Allen Newell's work have been central in my own efforts.
Finally, Allen Newell was famous for establishing rich, lifelong win-win collaborations with fabulous colleagues.   It's an honor to be here tonight with mentors, colleagues, students, and family. Thanks for the incredible collaborations and conversations over the years.  I've learned so much from all of you.                                  
I want to extend a particular thanks to my nurturing family.  As Mary and Zach know well, discussions about AI and decision making under uncertainty have extended into all aspects of our life and have filled our kitchen, family room, and our car for many years—and we've all been actively involved.          
Thank you.